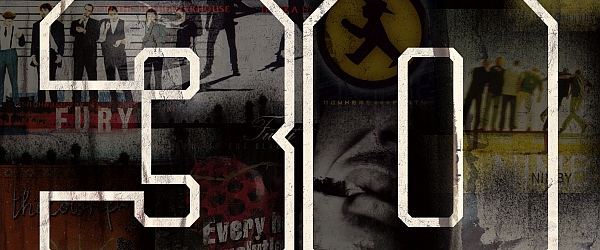 Das neue Album – ab 10.03.2017 im Handel!
Won't forget these days. Wozu auch? War es nicht erst gestern, dass Kai und Christof sich trafen und beschlossen: "Lass wieder zusammen Musik machen"? Fury in the Slaughterhouse, ein Name wie eine Trashmetal-Band und 1987 unmodernste Gitarrenmusik auf Englisch.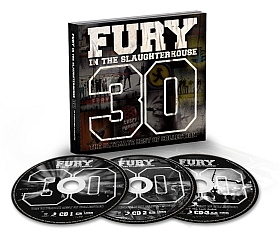 Mit den seinerzeit angesagten Musikstilen konnten sie sich nicht anfreunden, also schlugen sie einen komplett anderen Weg ein, um ihren musikalischen Ansprüchen gerecht zu werden. Laut und oft und viel – und siehe da, sie hatten keine Chance, aber die nutzten sie.
30 Jahre, Millionen verkaufte CDs, Abenteuertouren durch die USA und England und eine Trennung später sind sie wieder da. Richtiger und mehr denn je.
Mit Best-Of-CD inklusive sechs neuen Songs sowie hochwertigem Earbook (Limited Deluxe Edition), umfangreicher Tour inklusive ausverkauften Arena-Shows zuhause in Hannover und überraschend vielen jungen Musikerkollegen, die berichten, dass sie wegen Fury in the Slaughterhouse angefangen haben, Musik zu machen. Welcome back, Jungs!
Eckdaten zum Medium:
Interpret: Fury in the Slaughterhouse
Titel: 30 – The Ultimate Best Of Collection
Label: Starwatch Entertainment / Sony Music
Veröffentlichungsdatum: 10.03.2017
Format: Audio-CD (Digipak 3 CDs) / Limited Deluxe Edition (3 CDs + DVD)
Anzahl der Tracks: 38
Gesamtspielzeit: k. a.
>> CD Probehören/Kaufen <<
>> Offizielle Webseite vom Interpret/Label <<

Fury in the Slaughterhouse – 30 (The Ultimate Best Of Collection) – Trackliste
Änderungen vorbehalten!
CD 1:
01) Every Generation Got Its Own Disease
02) Come On
03) Radio Orchid
04) Milk and Honey
05) Then She Said
06) When I'm Dead and Gone
07) Hello and Goodbye
08) One Way Dead End Street
09) Dancing in the Sunshine of the Dark
10) Everything I Did
11) Time to Wonder
12) Kick It Out
13) Riding on a Dead Horse
14) Bring Me Home
15) Seconds to Fall
CD 2:
01) Are You Real
02) Won't Forget These Days
03) Trapped Today, Trapped Tomorrow
04) Brilliant Thieves
05) Protection
06) Homesick
07) Starless
08) All the Young Dudes
09) Down There
10) Midnight Rider
11) Goodbye, So Long
12) Haunted Head and Hear
13) She's a Star
14) Dear Prudence
15) Things Like This
CD 3:
01) 30 (It's Not Easy)
02) Love Has Gone Home
03) My Personal Everest
04) Dance on the Frontline
05) The Last Order
06) Words
07) Love Has Gone Home (Remix by RCM)
08) Dance on the Frontline (Puntillas-Remix by RCM)
DVD (Limited Deluxe Edition):
Kapitel 1: Making Of – Recording "Last Order EP"
01) Moments – 19th January 2016
02) My Personal Everest
03) Magic Mile Studio
04) Dance on the Frontline
05) The Last Order
06) Outro
Kapitel 2: "Rocking the Dunes" – Acoustic Fan Concert at Old Laramie / Spiekeroog 2008
01) On Alarm
02) Hang the DJ
03) Every Generation Got Its Own Disease
04) Kick It Out
05) Cut Myself Into Pieces
06) Cry It Out
07) Milk and Honey
08) Trapped Today, Trapped Tomorrow
09) Down There
10) Bring Me Home