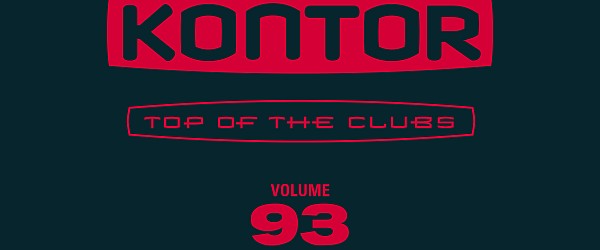 Die neue Compilation – ab 27.05.2022 im Handel!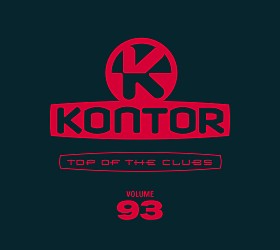 Die "Kontor Top Of The Clubs" ist Deutschlands #1 DJ-Mix Compilation Reihe und versorgt auch mit der Volume 93 alle Fans elektronischer Musik mit den besten Club, Dance, House & Mainstage Tunes.
Abgemischt in drei exklusiven DJ-Mixen von Jerome, Markus Gardeweg & Neptunica ist das Ergebnis "upfront" Sound zum Aufdrehen & Abgehen, den es so auf keiner anderen Compilation zu hören gibt.
Auf einer vierten Extra-CD finden sich außerdem ausgewählte Einzeltracks von CD 1-3, ungemixt und in voller Spiellänge!
Fotocredit: Kontor Records
Eckdaten zum Medium:
Interpret: Kontor
Titel: Top Of The Clubs Vol. 93
Label: Kontor Records / Edel
Veröffentlichungsdatum: 27.05.2022
Format: Audio-CD / Digital
Anzahl der Tracks: 92 (4 CDs)
Gesamtspielzeit: k. A.
Kontor Top Of The Clubs Vol. 93 – Trackliste
Änderungen vorbehalten!
CD 1 (Mixed by Jerome):
01) Topic, Robin Schulz, Nico Santos & Paul van Dyk – In Your Arms (For An Angel)
02) Swedish House Mafia & The Weeknd – Moth To A Flame
03) Jerome – Forever Gold
04) Beachbag, Max Fail & Viktoria Vane – L'amour Toujours
05) Luude feat. Colin Hay – Down Under
06) Alesso & Katy Perry – When I'm Gone
07) Armin van Buuren & R3HAB feat. Simon Ward – Love We Lost
08) Felix Jaehn & The Stickmen Project feat. Calum Scott – Rain In Ibiza
09) Joel Corry x Lekota – What I Need
10) Giorgio Gee & Noize Generation – Complicated
11) FISHER – Palm Beach Banga
12) Sigala – Melody
13) DJ Antoine feat. Chanin – Sunset in Dubai (DJ Antoine & Mad Mark 2k22 Mix)
14) Sido & TOPIC42 – Mit Dir (TOPIC42 Remix)
15) HBz & OBS – I'm Okay
16) Darius & Finlay, MartinBepunkt & Shaun Baker – Mein kleines Herz (Bam Bam)
17) Jerome & LANNE – The Climb
18) KYANU & DJ Gollum – Forever Young
19) Marc Blou x Morpheus – All Night Long
20) Jerome feat. Mila Falls – Where the Love Is
21) Mike Candys – Louder
22) Mariana BO x Jerome feat. Crooked Bangs – Light Up
23) Harddope x Sary – Bon Voyage
CD 2 (Mixed by Markus Gardeweg):
01) Purple Disco Machine & Sophie and the Giants – In The Dark
02) Imanbek & salem ilese – Married to Your Melody
03) Diplo & Miguel – Don't Forget My Love
04) Duvall feat. Sam Gray – Good Feeling
05) Regard x Years & Years – Hallucination
06) Cotone – What You Want
07) Crunkz & KALUMA – Memories
08) Dino DZ – Damn Phones
09) Babert & Mell Hall – Can't Stop Now
10) Eric Chase & Chassio – Go All Night
11) Jaxx Inc. – Last Night A DJ Saved My Life
12) Volkoder & Yolanda Be Cool – Work Your Body
13) Deeperlove – Say My Name
14) Tommy Vee – Give You Up
15) Joe T. Vannelli – Paradise (CASSIMM Remix)
16) Nora En Pure – Us
17) Markus Gardeweg – Submersible
18) Mat.Joe, C'mon & Otistic – Sunflower
19) Go Freek, Mickey Kojak & Thandi Phoenix – Lose You
20) EDX feat. Allie Crystal – Don't Be Afraid
21) PVNDA – Space
22) mOat – Paradise (Âme Remix)
23) Fred again…, Romy & HAAi – Lights Out
CD 3 (Mixed by Neptunica):
01) Imanbek & BYOR – Belly Dancer
02) VIZE – Dancing Alone
03) KYANU & Neptunica – Ghost
04) Scooter – The Spell Remains
05) Neptunica & Salena Mastroianni – Adrenaline
06) Mike Candys, Sunlike Brothers & Jordan Rys – Losing My Mind
07) Tujamo – Click
08) Timmy Trumpet – Lights Go Down
09) Beachbag, Drive With Beats & Ladina Viva feat. MaxRiven – Friday
10) R.I.O. & KYANU – Good Vibe
11) Neptunica & LUNAX – Darkness
12) Thoby – Rock My World
13) DJ Antoine & Flip Capella feat. Evelyn – Dark Love
14) Morpheus & Neptunica – Super Idol
15) KYANU – Super Marvels
16) 89ers – Just A Prank!
17) Twisted Harmonies & Dario Rodriguez feat. Scott Abbot – When I'm Gone
18) Nicky Romero & Almero – So Much Love
19) Sunnery James & Ryan Marciano & QG – See
20) VINNE and SPECT3R – Back For You
21) AVAION x Why So Sad – Fallin'
22) Bodybangers & Morpheus & RI10 – Up & Down
23) Dymd feat. CAROLINE – Feels Like the End
CD 4 (Full Length Versions):
01) Luude feat. Colin Hay – Down Under
02) Jerome – Forever Gold
03) Armin van Buuren & R3HAB feat. Simon Ward – Love We Lost
04) KYANU & Neptunica – Ghost
05) Imanbek & salem ilese – Married to Your Melody
06) DJ Antoine feat. Chanin – Sunset in Dubai (DJ Antoine & Mad Mark 2k22 Mix)
07) Duvall feat. Sam Gray – Good Feeling
08) Jaxx Inc. – Last Night A DJ Saved My Life
09) Scooter – The Spell Remains
10) Beachbag, Max Fail & Viktoria Vane – L'amour Toujours
11) R.I.O. & KYANU – Good Vibe
12) Mariana BO x Jerome feat. Crooked Bangs – Light Up
13) Mike Candys, Sunlike Brothers & Jordan Rys – Losing My Mind
14) Neptunica & Salena Mastroianni – Adrenaline
15) Darius & Finlay, MartinBepunkt & Shaun Baker – Mein kleines Herz (Bam Bam)
16) 89ers – Just A Prank!
17) Cotone – What You Want
18) Crunkz & KALUMA – Memories
19) Jerome feat. Mila Falls – Where the Love Is
20) PVNDA – Space
21) Eric Chase & Chassio – Go All Night
22) Dymd feat. CAROLINE – Feels Like the End
23) Markus Gardeweg – Submersible