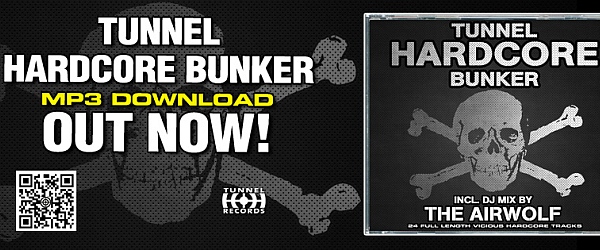 Tunnel Hardcore Bunker – die neue Compilation zusammengestellt von The Airwolf!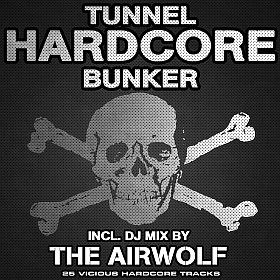 Dunkle Nächte, wummernde Bässe und schneidende Luft – das gehört zu einer Hardcore Nacht im legendären Tunnel Bunker. Nun endlich gibt es dieses Erlebnis für alle auf dieser brandneuen Compilation.
24 Traxx in voller Länge von Hardcore Pionieren wie u.a. Paul Elstak, Korsakoff & Viper, Evil Activities, Endymion & Nosferatu, Angerfist & Radical Redemption und viele, viele mehr.
Als Bonus zur Compilation gibt es den exklusiven DJ Mix von The Airwolf for free!
Eckdaten zum Medium:
Interpret: Various Artists
Titel: Tunnel Hardcore Bunker
Label: Tunnel Records
Veröffentlichungsdatum: 11.10.2013
Format: Download-Album (amazon, musicload, iTunes)
Anzahl der Tracks: 24 + Bonus Mix
Gesamtspielzeit: k. a.
Tunnel Hardcore Bunker – Trackliste:
Änderungen vorbehalten!
01) Korsakoff & Viper – Re-Bottled
02) Promo & Tha Playah feat. Snowflake – Open (Upside down) (Album Version)
03) Evil Activities – It's OK
04) Tensor & Re-Direction ft. Danielle-Laura Ward – Fly High
05) Re-Style – Get It Crackin (Final 2013 Edit)
06) Slavefriese – Oldschool DJs and MCs
07) Beatstream & Radiate – Here comes the hammer
08) State Of Emergency & Dyprax – Arise (MOH Austria Anthem)
09) Angerfist & Radical Redemption – When You're Gone
10) Kasparov – Dissing
11) Tha Playah – The Impact #TiH
12) Paul Elstak – I'm not an addict (Brisk Remix)
13) Endymion & Nosferatu – Face II Face
14) Headbanger – What the hell are u waiting 4
15) Kasparov & Evil Activities – Point Of No Return
16) Re-Style – The Conquest Of Fury (Official Masters Of Hardcore 2013 Anthem)
17) Evil Activities – Violence Silence
18) Endymion & Nosferatu – Uphold the future
19) Masters of Ceremony – Dirt
20) Hellsystem – Blood (Tha Playah Remix)
21) Juanma – Living changes
22) Tieum & Partyraiser – Equipment fail
23) FE4R – Control
24) Peace Destroyer – The Rules of the Underground
+ DJ Mix by The Airwolf