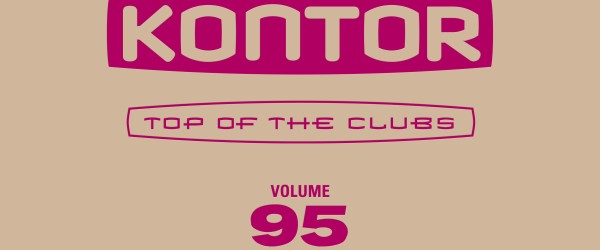 Die neue Compilation – ab 06.01.2023 im Handel!


Die "Kontor Top Of The Clubs" ist Deutschlands #1 DJ-Mix Compilation Reihe und versorgt auch mit der Volume 95 alle Fans elektronischer Musik mit den besten Club, Dance, House & Mainstage Tunes.
Abgemischt in drei exklusiven DJ-Mixen von Jerome, Markus Gardeweg & Neptunica ist das Ergebnis "upfront" Sound zum Aufdrehen & Abgehen, den es so auf keiner anderen Compilation zu hören gibt.
Auf einer vierten Extra-CD finden sich außerdem ausgewählte Einzeltracks von CD 1-3, ungemixt und in voller Spiellänge!
Fotocredit: Kontor Records
Eckdaten zum Medium:
Interpret: Kontor
Titel: Top Of The Clubs Vol. 95
Label: Kontor Records / Edel
Veröffentlichungsdatum: 06.01.20223
Format: Audio-CD / Digital
Anzahl der Tracks: 92 (4 CDs)
Gesamtspielzeit: k. A.
Kontor Top Of The Clubs Vol. 95 – Trackliste
Änderungen vorbehalten!
CD 1 (Mixed by Jerome):
01) DJ Antoine & Jerome – Hardcore Life
02) southstar – Miss You
03) Nina Chuba – Wildberry Lillet (Rave Remix by twocolors)
04) Robin Schulz & Tom Walker – Sun Will Shine
05) Topic & A7S – Kernkraft 400 (A Better Day)
06) VIZE x R3HAB feat. Enny-Mae – One Last Time
07) Felix Jaehn & Ray Dalton – Call It Love
08) twocolors – Heavy Metal Love
09) Alok x Ella Eyre x Kenny Dope feat. Never Dull – Deep Down
10) David Guetta vs. Benny Benassi – Satisfaction
11) Jerome x Hedara – Blow Ur Mind
12) Armin van Buuren & Wildstylez feat. PollyAnna – Typically Dutch
13) Beachbag – Toxic
14) Jerome x KYANU – Break The Silence
15) LUNAX x Marc Blou – Satellites
16) Timmy Trumpet & 89ers – Party PPL
17) DJane HouseKat, Blümchen & KYANU – Luv With U
18) OsTEKKe – Another Love
19) Mau P – Drugs From Amsterdam
20) R3HAB, Ryan Arnold & N.F.I – Mas Gasolina
21) Tiesto – Can U Dance (To My Beat)
22) Jerome, Crazy Donkey & Jem Cooke – Origami
23) Da Hool x Ch4yn – Fuck Up The Party
CD 2 (Mixed by Markus Gardeweg):
01) MEDUZA & James Carter feat. Elley Duhe & FAST BOY – Bad Memories
02) Supermode – Tell Me Why (MEDUZA Remix)
03) Alle Farben & Moss Kena – Forgot How To Love
04) NOON & Bright Sparks – I Bet My Body
05) Michael Mind feat. M. Mann's Earth Band – Blinded By The Light (Deeperlove Rmx)
06) AKA AKA – Who The Fck Are You
07) FISHER feat. MERYLL – Yeah The Girls
08) Glockenbach feat. ASDIS – Dirty Dancing
09) DVBBS – Just Words
10) Fabian Farell, Merlin & Justin Prince – Say Goodbye
11) Matt Guy – Set My Mind Free
12) Roy Stroebel – Keep
13) Eelke Kleijn – Transmission (Joris Voorn Remix)
14) Steve Brian x Kolby Knickerbocker – Need U
15) Eric Chase x Steve Brian x Chassio – Boyfriend
16) Jaxx Inc. – Life On Mars
17) Odd Mob – LEFT TO RIGHT
18) D.O.D & Raphaella – Like You Do
19) EDX – So Good
20) Nora En Pure – Altered Destiny
21) Markus Gardeweg & Roy Stroebel – Rock My World
22) Rafael Cerato x Sono – Still Here
23) Black Circle feat. Bobbi Fallon – Reasons
CD 3 (Mixed by Neptunica):
01) Neptunica x ZANA – Romeo & Juliet
02) Tiesto & Charli XCX – Hot In It
03) Ava Max – Maybe You're The Problem (MOTi Remix)
04) HIMATE x Chacel – Heaven
05) Neptunica x Martin Trevy x Paul Schulze feat. Katy Alex – Under The Night
06) Rnbstylerz – Like Wooh Wooh
07) Mike Candys – Mission Control
08) OBS x Isi Glück x Madmess – Bock
09) Beachbag – Wait 4 U
10) Empyre One, Abrissgebeat & Stockanotti – Heaven Is A Place On Earth
11) 89ers – Wilder Than A Hurricane
12) Neptunica x Corona – The Rhythm Of The Night
13) Toby Romeo & Leony – Crazy Love (VIZE Remix)
14) LUNAX x ZANA – Gone Tomorrow
15) Alok, Sigala & Ellie Goulding – All By Myself
16) DJ Antoine & Sergio Trillini – Rainbow
17) Toby Romeo, Keanu Silva & IZKO feat. ASDIS – WOW
18) KYANU x Marc Korn x NOISETIME – High On Life
19) Disco Lines – Baby Girl
20) NIKSTER & Niklas Dee – Lost
21) R.I.O. x KYANU x Nicco – Party Shaker (AXMO Remix)
22) Special D. x DJ Sammy & Carisma – Prince Of Love 2023
23) Behmer x B3nte x Westerlund feat. Lena Sue – Kiss And Make Up
CD 4 (Full Length Versions):
01) Armin van Buuren & Wildstylez feat. PollyAnna – Typically Dutch
02) DJane HouseKat, Blümchen & KYANU – Luv With U
03) LUNAX x Marc Blou – Satellites
04) HIMATE x Chacel – Heaven
05) DJ Antoine & Jerome – Hardcore Life
06) Special D. x DJ Sammy & Carisma – Prince Of Love 2023
07) Mike Candys – Mission Control
08) Beachbag – Toxic
09) Neptunica x ZANA – Romeo & Juliet
10) Jerome x Hedara – Blow Ur Mind
11) KYANU x Marc Korn x NOISETIME – High On Life
12) OBS x Isi Glück x Madmess – Bock
13) Behmer x B3nte x Westerlund feat. Lena Sue – Kiss And Make Up
14) 89ers – Wilder Than A Hurricane
15) Matt Guy – Set My Mind Free
16) D.O.D & Raphaella – Like You Do
17) Fabian Farell, Merlin & Justin Prince – Say Goodbye
18) EDX – So Good
19) Eric Chase x Steve Brian x Chassio – Boyfriend
20) Nora En Pure – Altered Destiny
21) Markus Gardeweg & Roy Stroebel – Rock My World
22) Michael Mind feat. M. Mann's Earth Band – Blinded By The Light (Deeperlove Rmx)
23) AKA AKA – Who The Fck Are You