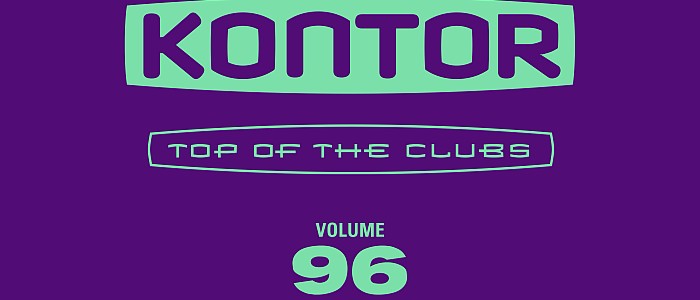 Die neue Compilation – ab 14.04.2023 im Handel!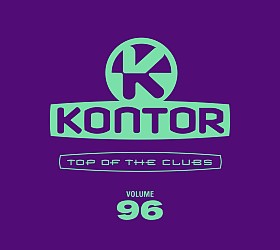 Die "Kontor Top Of The Clubs" geht in die 96. Runde und versorgt alle Fans elektronischer Musik mit den besten Club, Dance, & Mainstage Tunes.
Abgemischt in drei exklusiven DJ-Mixen von Jerome, Markus Gardeweg & Merlin ist das Ergebnis "upfront" Sound zum Aufdrehen & Abgehen, den es so auf keiner anderen Compilation zu hören gibt.
Auf einer vierten Extra-CD finden sich außerdem ausgewählte Einzeltracks von CD 1-3, ungemixt und in voller Spiellänge!
Fotocredit: Kontor Records
Eckdaten zum Medium:
Interpret: Kontor
Titel: Top Of The Clubs Vol. 96
Label: Kontor Records / Edel
Veröffentlichungsdatum: 14.04.20223
Format: Audio-CD / Digital
Anzahl der Tracks: 92 (4 CDs)
Gesamtspielzeit: k. A.
Kontor Top Of The Clubs Vol. 96 – Trackliste
Änderungen vorbehalten!
CD 1 (Mixed by Jerome):
01) Leony – Somewhere in Between (LUNAX Remix)
02) Timmy Trumpet x Ben Nicky – We Come 1 (Darren Styles Remix)
03) Gammer – Believer
04) AXMO x Neptunica – Take Me Home
05) Creeds – Push Up
06) Rubi – ONLY 4 LIFE (Remix)
07) Jerome x imallryt – Still Need You
08) LUNAX x Wasback x Edward V – Cups (Drunk in Love Pt. 2)
09) LANNE – Ouija Board
10) Neptunica x Jebroer – Driving Without License
11) Armin van Buuren & Blasterjaxx – La Bomba
12) Jerome & KYANU – Now
13) Maddix – Heute Nacht
14) Durdenhauer x A$AP Rocky feat. Skepta – Praise The Lord (Durdenhauer Edit)
15) Felix Jaehn – Wishlist
16) R.I.O. x KYANU – Forever in Your Arms
17) Scooter – Waste Your Youth
18) TurboKevin – CHASE THE SUN
19) KYANU x NIKSTER x Oien feat. Slenderino – Never Be Alone
20) Interactive – Forever Young (Reloaded)
21) Deeperlove x Da Hool x Robster – Coastline
22) Funk Tribu – Phonky Tribu
23) Digma x twoloud – Night Drive
CD 2 (Mixed by Markus Gardeweg):
01) Claude – Ladada (Mes Derniers Mots)
02) Tiesto & Tate McRae – 10:35
03) Alok & James Arthur – Work With My Love
04) Elton John & Britney Spears – Hold Me Closer (Joel Corry Remix)
05) LUNAX x Mary Jensen – Let's Call It Love
06) Armin van Buuren & Matoma feat. Teddy Swims – Easy To Love
07) Joel Corry & Tom Grennan – Lionheart (Fearless)
08) Sono – Never Die
09) Restricted – Big Jet Plane
10) Alle Farben – Freedom
11) D.O.D – Love Nor Money
12) Nicky Jones x CLMNS BROCK – Ghost Town
13) Martin Trevy feat. Katy Alex – Overdrive
14) Jaxx Inc. – Lost
15) Hagen Feetly – Hanami
16) Simon Fava feat. Carlprit – Take It Down (2023 Edit)
17) Dominique Jardin x Jordan Grace – Good In Me
18) Nora En Pure – Indulgence
19) Lufthaus – Soul Seekers
20) Notre Dame – Yumi
21) Rebel Youth – What Is Soul? (Joris Voorn Edit)
22) Matt Guy feat. 666 – The Devil
23) Nora & Chris – 7 Days A Week
CD 3 (Mixed by Merlin):
01) Sam Smith & Kim Petras – Unholy (Disclosure Remix)
02) Merlin – Hola, Que Tal
03) Mike Candys – Body Rock
04) D.O.D – Set Me Free
05) Jengi – Bel Mercy
06) Loud Luxury and Hook N Sling – Afterparty
07) Benzsoul – Only Love
08) Cedric Gervais & Felix – Don't You Want Me
09) Merlin, Eric Chase & Mila Falls – Bring It Back
10) Giorgio Gee & Noize Generation feat. Matthew Clanton – Maria Maria
11) Rico Bernasconi x Stephen Oaks – U Hypnotized Me
12) Torren Foot feat. Azealia Banks – New Bottega
13) Ch4yn – How I Fell In Love
14) Shockz x Xellex – Right Way
15) Picco – Dolce & Gabbana
16) twoloud – Check Out The Sound
17) Bram Sutherland x Shockz – You Gotta Believe
18) Ship Wrek – Sober
19) Merlin – Bombay
20) Beachbag & Paul Keen feat. David Emde – All My Life
21) Tibasko – Hawt
22) Aexcit x INFINITY x Smurfy feat. Fred Owusu – On My Way
23) Autograf, Malou & Burko – Vertigo
CD 4 (Full Length Versions):
01) Jerome x imallryt – Still Need You
02) LUNAX x Wasback x Edward V – Cups (Drunk in Love Pt. 2)
03) Interactive – Forever Young (Reloaded)
04) Gammer – Believer
05) Neptunica x Jebroer – Driving Without License
06) Scooter – Waste Your Youth
07) Armin van Buuren & Blasterjaxx – La Bomba
08) Beachbag & Paul Keen feat. David Emde – All My Life
09) R.I.O. x KYANU – Forever in Your Arms
10) Bram Sutherland x Shockz – You Gotta Believe
11) Leony – Somewhere in Between
12) Shockz x Xellex – Right Way
13) Martin Trevy feat. Katy Alex – Overdrive
14) Nora & Chris – 7 Days A Week
15) Nicky Jones x CLMNS BROCK – Ghost Town
16) Dominique Jardin x Jordan Grace – Good In Me
17) Digma x twoloud – Night Drive
18) Giorgio Gee & Noize Generation feat. Matthew Clanton – Maria Maria
19) Merlin – Hola, Que Tal
20) Nora En Pure – Indulgence
21) Hagen Feetly – Hanami
22) D.O.D – Love Nor Money
23) Sono – Never Die